After starting a blog, the next is to choose Perfect theme for your blog and websites and do many other theme.
With this guide you will know how to choose perfect theme for your blog.
Themes are blog's cloth, and remember you get address the way you dress right?
Yeah!
Google and Visitors will address your blog with the structures and how it looks like.
If you theme isn't mobile friendly, you won't rank higher on search engines.
There are many themes online, i mean thousands of themes by many web developers and companies.
We are having themes for blogging platforms, There are WordPress Themes And Blogger Templates.
Some themes are free while some are premium, you need to pay before getting some themes.
Premium themes are more good than the free ones, You should know that.
You can create themes by yourself, when you have the knowledge of programming languages.
Programming Languages like Html, CSS, Php, Jquery & Javascript are used for building wordpress themes from start.
You can go to tutorialspoint to learn all the programming languages.
You can also hire companies to design for you, A lot of websites using customized themes hired companies to help hem with a customized theme.
Your blog need to have nice theme because of many reasons, but some will be discuss now.
Why Your Blog Need A Nice Theme?
You need theme for your blog because of many reasons, some are listed below.
You need a very good theme because SEO.
Visitors also demand for a very good theme.
When it comes to competition.
So now, you have the reasons why you need a very good theme for your blog, can i proceed to how to choose the perfect theme for your blog?
Now Let's get started.
How To Choose The Perfect Theme For Your Blog
Remember, I said this already, your blog can be address with its theme.
Even if people didn't mind about the theme, Google will mind by not ranking that blog faster.
What am i saying, they won't crawl and index faster, talk less of ranking.
You've be given the importance of choosing the perfect theme for your blog already, you can scroll to the top, to read.
so now i will tell you ways to check the perfect themes, i mean what a perfect theme must have and what it most  not.
Watch out!
Structures Of The Theme
Many themes out there are having structures, some have 2 sidebars, 4 footers, but why do you need all this?
To add more widgets right?
Having plenty widgets on a blog, is a big problem, it is having many effects.
The number one effect is that it affects the website's speed.
And when your website is slow, google your blog higher and people will leave your website/blog.
Because people of nowadays can't wait for a blog to load for 1minute.
They expect your blog to load in milliseconds.
So you need to use 1primary sidebar, and atleast 3footers.
Your theme can also support front and blog page, like mine here.
I love when themes is having front page where you can put your email subscription widgets, latest blog posts and others.
While the blog page will only consists of posts and the primary sidebar.
The front and blog page isn't necessary but i love and preferred it.
Yes, Top Bloggers Like Neilpatel's theme also support front and blog page.
Here is my front page and blog page.
Note: If you are worried about designing the front page, that doesn't cause for alarm, you can use page builders like Visual Composer, Divi, Elementor and Others.
You can read more about it on wpbeginner.
2. Responsiveness Or Mobile Friendly
Responsiveness or mobile friendly of a theme simply means theme theme should react whenever it is on mobile, tablet and PC.
As we all know, people with different things, some people preferred using using mobile to view other websites and some preferred using their PC.
So you have to make sure it suits all the versions they use either mobile, tablet or PC.
You can even seperate theme for your mobile version and web version with plugins, the plugins use are:
So your blog's theme have to be mobile friendly because google loves that, they want the best for the searchers so they will prefer their convenience.
There are many tools to check if the theme is responsive or mobile friendly, but i preferred to use the tool from google.
Follow all the steps to check if your theme is mobile friendly or not.
Step 1 – Go to Mobile-Friendly Test on your browser, then you will see where to enter the URL of the blog which you want to check its responsiveness (You can put the demo of the theme there to check it responsiveness).
Step 2 – After entering the URL, You will click on run a test, so you will see the result.
As you can see my theme is mobile friendly.
3. Speed, Browser Compatibility And Plugin Supported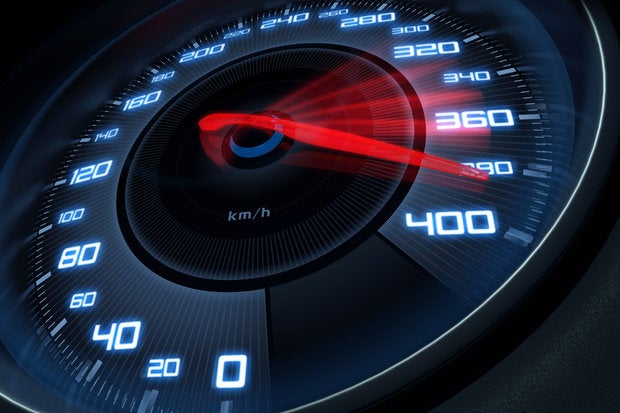 Speed is crucial in SEO, and for your visitors, your website speed must be very good.
According to studies: Visitors expect your blog to load in milliseconds, because they want to get what they need faster.
The visitors will keep finding ways to increase bounce rate but you will be the one to convince them by writing very long posts and interlinking them.
There is no need to write on how to speed your blog again, i have a guide for that.
You can read now: How To Speed Up Your Blog.
And the browser compatibility is also crucial because your visitors cannot be using the same browser, people with different thought.
And remember what is another man's food is another man's  poison.
So you have to make sure the theme is also supported by all browsers.
So you will test the demo on the popular browsers you know people can use and check how it looks like.
The plugins are must use tool on your wordpress blog, you can never find a wordpress blog that isn't having a plugin.
Your theme should support popular plugins like Jetpack, you can ask the theme developer to check either it is or not.
You can edit the style.css of the theme to check the plugin the theme uses.
4. SEO Friendliness
Don't you know that your theme means a lot in SEO?
If you theme is poor coded with programming language, it affects your website's performance on search engines.
It is very difficult to know when a theme is SEO friendly, because you aren't the one who made it.
So the company who made it will let you know if it is SEO Friendly.
You can read this Thread from moz.
It teaches about how to identify if a theme is SEO Friendliness.
5. Font And Color Styles
Font is really matters in the theme, because it is the way the texts are displayed, so if the text aren't displaying very well, what will the people read.
And remember the primary reason why people visit your blog is to come and read your contents, so what did you want them to do when your font is very bad.
Your font must not be:
Too Big, Too Small, Make It Normal.
It musn't be very bold, Just make it normal.
It musn't be in stylish form.
The color shouldn't be anything apart from black.
Color also matters in a theme, just like the font.
Some theme are having a very bad color, it makes websites looks like provision stores.
As a perfect theme it should have color codes, like my theme here, I made it 3 colors.
Not just using colors anyhow, so you need to choose a theme with the perfect color, some themes even allow you to change your colors to your favorite ones.
When i want to choose a theme, i check for the color and font also.
Recommended Websites To Get Perfect Themes
I said this already, there are many websites where you can get themes but most of the website aren't trusted and secured, so now i will give you where to get them.
Where to Get WordPress themes?
There are many free wordpress themes, but i will advise you to purchase premium wordpress themes because those free ones maybe having malicious codes.
Where To Get Blogger Themes?
If you are still using blogspot/blogger platform for your blog, there are many websites to get themes for that.
5 Best SEO Friendly Free WordPress Themes
We are having uncountable WordPress themes, some theme developer makes new themes every day.
1. Sydney
The Sydney theme is designed for companies and freelancers who want to present a strong online presence. The customization options are rather expansive, with options for Google Fonts, logo uploads and more. The full-screen slider works nicely for those who want to show off large images or promotional banners, while the full-color control offers the ultimate branding environment. Sticky navigation helps people move through your site, and the front page blocks act as somewhat of a drag and drop interface for professionally designing a clean interface.
The theme is responsive for those who want to view the site on mobile devices, and it comes with over 600 Google Fonts for modifying your typography. Sydney is complete translation ready for reaching out to those who don't speak your languages, and the parallax background adds a creative aspect to your site. You can choose between a static image or slider, and implement social icons to send customers to your Facebook and Twitter pages.
2. Newsmag Lite
If considering a newspaper or magazine-style theme, the Newsmag Lite solution stands out regardless of what type of industry you're writing about. The theme includes social media buttons, which isn't standard for many free themes. In addition, you can post banner ads for making a little money from your operation. Each of your categories is broken down with widgets, and the menus are completely customizable. The clean and modern magazine provides four blog page styles, and it works on all mobile devices.
The theme is built using Twitter Bootstrap 3, and it incorporates Font Awesome icons for bold titles and branded writing. Both contact forms and Google Maps can go on your Contact page, while the custom front page delivers options like post banners, sliders, and block styles. The custom backgrounds and menus achieve both branding goals and navigational needs. You also gain access to items like popular post widgets, responsive video spots, custom colors, and dynamic widgets. Overall, the customization options are strong with this one.
3. BloggingBox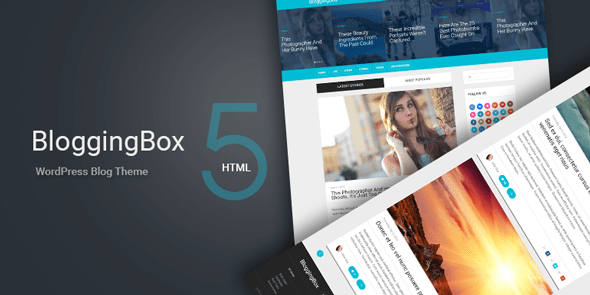 Blogging Box is premium multipurpose WordPress blogging theme by MyThemeShop. This theme features elegantly designed fully responsive layout, tons of custom options, shortcodes, widgets and much more. Moreover, it is intuitively designed which is ideal for multiple blogging niche ideas.
It has following major features:
Fluid Responsive
Multiple Layouts
Hot & Clean Design
3 Post Layouts Options
Custom Carousel
SEO Ready
Speed Optimized
Adsense Optimized
WooCommerce Compatible
Parallax Scrolling
Advanced Option Panel
Clean Code
Translation Ready
Unlimited Color Option
The theme is premium though, but it is really cool.
4. Newspaper X
Newspaper X is a free WordPress theme dedicated to magazines, available for download. It is Bootstrap based and it is built to be manageable through WordPress Customizer. It also features an awesome ad banner to add publicities. Newspaper X comes with 4 categories separated in grids. These are: editorial, events, latest news and world news. Go through posts with its intuitive search bar. It is a theme designed for any communication purpose at high or low scale. You will find awesome pages for blogs and a topbar with social media buttons too! Have fun with this awesome simple theme designed just for you! Try Newspaper X!
5. Genesis Child Themes
We are having plenty genesis child themes, you have to install genesis framework theme, then you will install the theme.
I will be listing the genesis themes here, So you can check the demo.
The child themes are:
5 Best SEO Friendly Free Blogger Templates
These are the best free blogger templates, you can use on your blog.
1. Technext
Technext is a clean and modern free responsive blogger template built on a fully responsive layout. Your website is going to look beautiful on all screen sizes. It is a premium looking template which is going to make your website stand out from the rest. Technext has twelve color schemes to choose from; pick the best one which suits your website. There are social bookmarking icons to help you in growing the social presence of your business or blog. It features a gallery which lets you upload images of your choice.
The homepage and content pages are well optimized for Adsense. With the widget support, they provide appropriate header and sidebar section placements. The top bar navigation is an added feature to magazine size blogs which has many categories. Use it as a video blog and gags website as it will help you add videos from youtube, Vimeo with embed support.
More Information And Download.
2. Blogus
Blogus lets you create a unique blog and is easy to customize with well-documented pages. It has a responsive design which is going to help your website shine. It has a minimalistic design and is a professional with a clean coded template.
The template has been Adsense optimized so you can feature advertisements on your website. A best-suited theme for a personal blog and professionals who do product reviews, affiliate marketing.
Blogus features cross-browser compatibility and works on all the leading browsers. This amazing template will help in displaying your content in a beautiful way.
3. Square Modern Magazine
A new and modern blogger HTML template with comes with two variations of XML files to edit the template as you like. The template is responsive and it can give a jump start to your blogging website.
Like to get subscribers? The email subscription feature lets you grab emails of your viewer with Feedburner. This is a template for business, it has a simple, clean and modern layout on which you can design your website. The template has a responsive menu and many custom widgets to showcase your website's content in the most amazing way you like. Content is well curated and search engine optimized so your website is on top of the search results. It has a unique design to impress the eyes of any viewer visiting your website. Look at it yourself. A Modern Magazine that is compatible with all devices including Internet Explorer.
4. Gridz
As the name goes this template focus on a three column grid with a large post slider also including footer elements. You can use it to create your new website either its a personal blog, fashion, photography, agency blog etc.
The grid-based design will give your blog a pleasing look once installed. The sticky posts will float on the top of the homepage and should be offset with the rest of the posts. The template is retina ready and features auto resize thumbnail image for your blog to look the same on all screen sizes. Gridz has been Adsense optimized and compatible with all Chrome, Mozilla and Internet Explorer etc.
5. BlogStar – Multi-purpose Personal Blog
A blog for male or female bloggers and enthusiasts to write something interesting in style for the suitable audience. This is a responsive HTML blogger template which you can download for free.
BlogStar comes in two versions; boxed and wide. It is a two column template layout and is a fully responsive theme. The modern and clean design is easy to set up and creating a blog has never been so easy. BlogStar features one-click demo importer using which you can import widgets, pages, posts and theme options. The template has many useful shortcodes that lets you add Google maps, highlight texts, testimonials, accordions and much more. It also features cross-browser compatibility and search engine optimization gone through its full code. The mega menu with featured images of the articles is an eye candy and it makes this template our favorite.
Conclusion
I hope you really enjoyed the post?
You need to choose the perfect theme for your blog because it is the cloth of your website and remember the way your blog structures looks (I mean when it fully optimized) like the more you rank.
So keep sharing this post for other bloggers.